Kids, Family, Baseball and Hot Dogs
An American Tradition!
Hey Dads, Grandads, Uncles - grab the kids for a fun evening bonding with your kids at a summer baseball game. Bring Mom along too for a family evening at the ball park.
Come alone, bring the wife or a date or your baseball friends for an enjoyable evening supporting Spokane Fatherhood Initiative and our 24/7 Dads.
SpoFI has tickets reserved for you at a special discount on three special game nights. You can go to one or all three games. Ticket prices are $11 Upper Box (fixed, molded seats mounted bleachers style).
If we have a group of twenty or more you will hear a special welcome sometime during the game announced over the stadium!
This year we have tickets reserved on Family Feast nights. Hot Dogs, Soft Drinks, Chips and Ice Cream are just a buck fifty each (tax included)!
Come Join the Fun
How can you beat a buck fifty (includes tax) for hot dog, soft drink, chips, ice cream or candy? Perfect evening to bring your hollow-legged teenage boy and his appetite to the ball game! These popular game nights will sell out fast so get your tickets early.
We had a great time together on July 17 and August 14.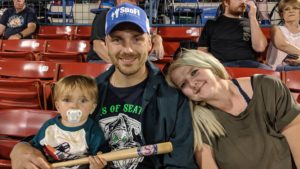 Don't miss out, join us for our last reservation together. Our seats have been along the first base line. Both games we had several balls land near our section and a couple of them went home with our kids!
August 28, 2019 - Family Fest Night
Spokane Fatherhood Initiative Group