We've Celebrated our Dads (and their families) on Father's Day 2023!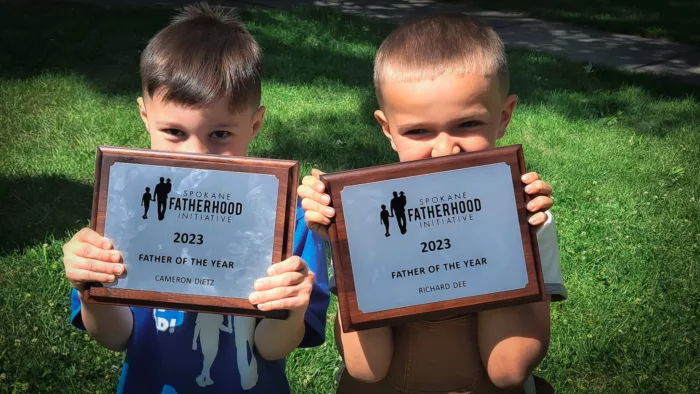 What a wonderful day for a picnic! Thanks to all those who came out for the festivities, and a BIG thanks to our donors, volunteers and alumni who make these event possible. We are immensely grateful.
We're Celebrating our Dads
We will be announcing the recipients of our 2023 Spokane Fatherhood Initiative Fathers of the Year awards at our annual picnic this coming Sunday.
You and your family and friends are invited!
The 24-7 Dad® Alumni are hosting the event this year with assistance from SpoFI. A casual, summer barbecue meal with hamburgers, hot dogs, watermelon, and sides are planned with iced tea and lemonade for beverages. You are welcome to bring any other non-alcoholic beverages.
Although reservations are not required, please RSVP below by Friday, June 16, to help us plan the food (we don't want anyone to go hungry!). If you don't RSVP you are still welcome to come.
When–Sunday, June 18, 1:00 to 4:30 PM
Pets are welcome too but please adhere to the park rules:
"The City of Spokane Parks and Recreation Department requires that all pets utilizing the parks system be kept on a leash. Owners are responsible for cleaning up after their pets."
Put your game face on for Sunday afternoon as well! The park has softball fields, basketball, tennis, and horseshoe courts plus a play area for kids including a splash pad. There's also room for frisbee toss and kickball, so bring it on! Bring your own lawn chairs and/or a blanket to sit on.
We hope to see you all on Sunday!
Event notes
Reservations not required but RSVP appreciated by Friday, June 16 so we can plan food. Please use the form below to RSVP for you and your guests.
Family barbecue meal provided – Hamburgers & hot dogs, etc. Drinks – lemonade and iced tea.
Pets are welcome–see notes above.
Bring your own seating or blankets for the lawn.
Park amenities – rest rooms, basketball court, horseshoe pits, splash pond for the kids, kids' play area.
Bring any other appropriate park gear, like gloves, balls, frisbee, etc.
Parking off Perry st. and off Arthur st.. Street parking available on 11th Ave.
This link or the map below, points to the precise location of our gathering.
2023 Spokane Fatherhood Initiative Fathers of the Year awards will be announced!