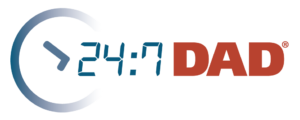 Fatherhood Training Classes
Be a Better Dad
Get Closer to Your Kids
Contracted with WA DCYF
Certificates Recognized in Family Court

Fatherhood Training classes are forming now. Each class consists of 12 required sessions currently taught twice a week from 6:30 PM to 9 PM with a ten-minute break around 8 PM. Dinner is served at 6:30 PM and class starts at 7 PM. Graduates have the opportunity to attend another twelve-session, more advanced class usually scheduled immediately after these classes end.
Winter 2020 24/7 Dad Class Schedule
February 25 through April 2
Tuesday and Thursday
Family of Faith Community Church - N Maple at Grace
Click the button below for more about 24/7 Dad or scroll down to preregister.