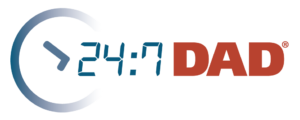 Fatherhood Training Classes
Be a Better Dad
Get Closer to Your Kids
Contracted with WA DCYF
Certificates Recognized in Family Court
SpoFI 24/7 Dad classes are being presented online during the COVID 19 restrictions.
Staying at home 24/7 getting you down? Cabin fever got you fidgety? Feeling isolated? We can help!!!

Come join our next 24/7 Dad online class!
Fatherhood Training classes are forming now. Each class consists of 12 required sessions currently taught twice a week from 7:00 PM to 9 PM with a ten-minute break around 8 PM. Graduates have the opportunity to attend another twelve-session, more advanced class usually scheduled immediately after these classes end.
24:7 Dad Class Schedule
2019/2020 classes have ended.
2020/2021 classes begin in septembr, 2020
Our classes are being held online using the free Zoom Meetings Application
until the COVID restrictions are lifted
Register Anytime
Next Beginning class -September 2020
Click the button below for more about 24:7 Dad or scroll down to Register.