Dear Friends and Champions of SpoFI:
You've truly outdone yourselves!
In a remarkable display of generosity at our Dessert Fundraiser on November 17th, you joined forces to surpass our expectations, amassing over $31,000. This incredible feat unlocked an additional $20,000 from a gracious anonymous benefactor, propelling us to a stellar beginning in our year-end campaign with a collective $51,000.
To every donor, attendee, and volunteer, you have our deepest gratitude. Your contributions breathe life into our mission to combat fatherlessness, enriching lives through our 24-7 Dad classes and transformative programs.
A special thanks to our friends at Summit Spokane for coming through in a big way providing an excellent venue–and at the last minute!
The journey isn't over
We are more than half-way to reaching our ambitious goal of $90,000. Should you feel inspired to further support our cause, we warmly invite you to visit spofi.org/donate. Your generosity is the cornerstone of hope and change.
A brief recap of the evening
At our fundraiser, the stark realities of absent fatherhood were vividly illustrated through personal stories. We listened, heartened by Ike and Rachel Whitaker's powerful testament to resilience and redemption. Ike's battles with alcohol, stemming from early paternal absence, and Rachel's unwavering support, weave a narrative of true perseverance. Together, they now stand as pillars of strength, nurturing both their family and Whitaker Family Furniture.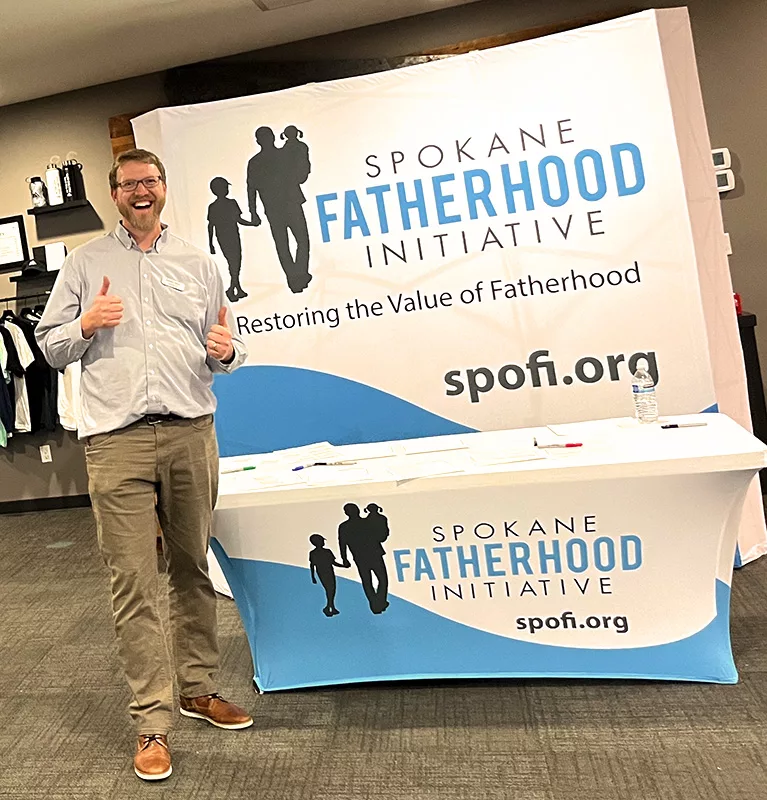 Del Flambouras, another beacon of hope and a graduate of three SpoFI Dad programs, shared his ascension from a tumultuous past to proudly co-parenting his children and marking over 400 triumphant days free from opiates.
"When I first showed up to SpoFi I was newly sober, very uncomfortable in my own skin and hadn't found my voice yet. But having the courage to walk through those doors the first time was like a divine intervention that changed life for the better in a way that I struggle to find words to describe. More than any wonderful organization I've been a part of through this journey, I credit SpoFi as the biggest anchor to my sobriety."

Del Flambouras, SpoFI 3x Program Graduate
These stories, and many others, are encapsulated in this emotive 8-minute video
Preparing for the future
As we approach the close of the year, your advocacy is as vital as your donations. Sharing our mission with friends and family amplifies our impact and brings us closer to healing the wounds of fatherlessness for this generation and those to follow.
With heartfelt thanks,
Ron Hauenstein
Executive Director